Tailgating is a uniquely American tradition. Experiencing it in a motor home is a unique venture.  With so many festivals and sporting events coming up this year, a good tailgating experience takes the cake. Here are our favorite tailgating tips.
Tailgating Tips:
The food – Likely the most important part of tailgating. Hot dogs and burgers simply won't do! So bring out those BBQs and smokers and let your imagination roam. Here are some great recipes to get you started and you'll be bringing in a crowd from the smell alone. You never know, maybe you'll be entering into one of those high-class BBQ competitions before you know it.
If you're looking for something simple, according to the Tailgate Party Planner, "Jim's Tail Gate Beer" is the most important recipe:
1 – Cooler
3 – Bags of Ice
1 – Case of Beer
It's not difficult to make, but it's a mandatory dish. The same goes for water. Pack more then you think you'll need. Hydration is key.
Parking – If you're hoping for a prime spot, get there early! Sweet and simple.
Pick a side – Make sure there's no confusion about what team you're supporting and decorate your RV accordingly. Balloons, banners, and lots of colors. You can even bring a satellite and TV to run the pre-game show or play old iconic games of your team. And don't forget the face paint and team flags, although I'm fairly certain that those are a given.
The luxury of an RV – The best part about tailgating in an RV is that you have all of your essentials on board for any weather condition or any issue that may arise. It's all right there, packed up in your RV, including your bed to ensure that no drinking and driving occurs.
Meet your neighbors – Don't be shy, go say hi to your neighbors. Everyone is friendly and there for the same reasons you are. It's like creating a neighborhood. Bring extra food, be friendly, be respectful of opposing fans, and have fun!
Pack out what you bring in – Respect your team and the stadium by picking up after yourself.
Follow us on facebook.com/usarvrentalscom or on Twitter @usarvrentalscom for promotions and exciting articles about life in an RV!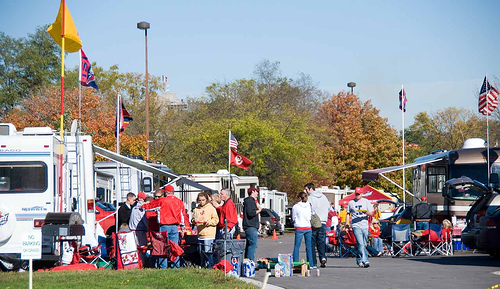 Photo credit: thefuntimesguide.com
Tags: RV Tailgating, RV Tailgating Tips