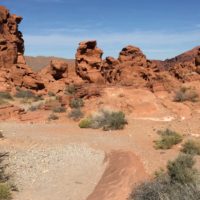 As the oldest and largest state park in the US, and one that is open all year, it's a great getaway. Only 6 miles from Lake Mead and 55 miles northeast of Las Vegas, the park showcases ancient trees, petrified wood and 3,000 year-old Indian petroglyphs. Red sandstone formations formed from the sand dunes shifting 150 million years ago, hence the name Valley of Fire.
With summer temps exceeding 100-120 degrees, and mild winters, with temperatures ranging from freezing to 75 degrees, makes this a great winter camping destination.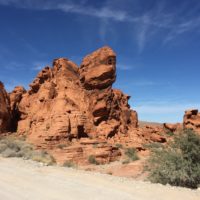 If you're looking for more information on each rock point and some greta points of interest, visit the Valley of Fire Nevada Parks website. Each rock formation is fabulous on it's own and the stories behind just add to the enchantment. The petrified wood and animals that cohabitate in this area are a worth the drive to explore.
The desert is extremely fragile so remember to pack out absolutely everything that you pack in leaving no trace and preserving this wondrous destination for years to come.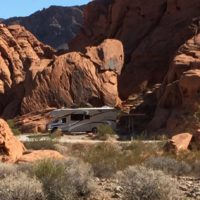 If you're looking to extend the exploration, campsites are available. RV camping with power and water hookups are also now available if you're looking to add a little luxury to your stay. Camping is limited to 14 days in a 30 day period and we offer a number of budget RV's to suit the journey.
Follow us on facebook.com/usarvrentalscom or on Twitter @usarvrentalscom for promotions and exciting articles about life in an RV!