Camper van rentals from San Francisco are a great way to see the country. Camper vans are smaller than regular RV rentals giving you lots of advantages. Camper vans weigh less than RVs saving you money on gas. Camper vans being smaller than RVs means that you can take them more places. Whether you want to take the camper van rental to a small little lake secluded from the world or take it downtown San Francisco, these little vans are much more maneuverable than their larger counterparts. Camper vans sleep 2 to 4 people depending on the van, and most have kitchen areas but not toilets or showers.
You can relax with a camper van rental from San Francisco because you will know you got a great deal.
So start planning your next camper van rental from San Francisco and let us help you. Visit our quote program or call one of our RV rental reservation specialists for more information.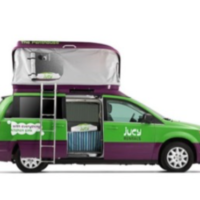 Furthermore, check out these articles for more information.
Best RV Rentals in San Francisco
One Way RV Rentals from San Francisco
Tags: camper van san francisco, rent an RV Campervan San Francisco California