Enjoy this 7-day self-guided tour, as you explore the beautiful beaches and rich history of Florida.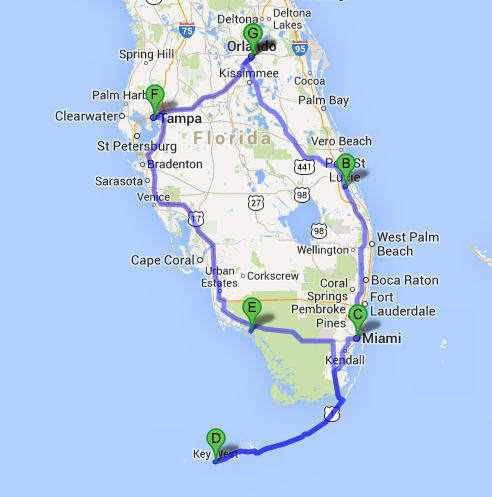 Day 1 Home to Orlando Florida
After you have flown into MCO Orlando International Airport spend the first night at your hotel. If you are flying in from another country you may be required to spend your first night at a hotel. Check out some of the local Latin inspired cuisine or some of Orlando's hot nightlife.
Day 2 Orlando to Port Saint Lucie
Depending on which company you have rented your RV from you may be able to pick up your RV in the morning or you may have to wait until early afternoon.
If you love baseball, Point Saint Lucie is the spring training site for the New York Mets. Stop by the field and see how the team is shaping up for the coming season. Visit the only US Navy SEAL Museum, where if you got any closer you would have to enlist.
Day 3 Port Saint Lucie to Miami
Spend the morning exploring the mysteries of Coral Castle. This castle was built with 1000 tons of stone by a single man. Spend the afternoon swimming in the Venetian Pools, built-in 1923 in an old rock quarry.
Day 4 Miami to Key West
Make your way down to the southernmost tip of the US, Key West. Dive or snorkel in the United States only living coral barrier reef. Visit the Key West Butterfly and Nature Conservatory or just spend the day on the beautiful beaches of the Florida Keys.
Day 5 Key West to the Everglades
The Royal Palm Visitors Center is the best place to start when visiting the Everglades. They are the experts, they know the trails, ponds, and canals that you should be visiting in the hopes of seeing some gators.
Day 6 Everglades to Tampa Bay
Whether you want to visit the Florida Aquarium, Busch Gardens, Lowry Park Zoo, or Adventure Island, Tampa Bay has lots to see and do for the last leg of your trip.
Day 7 Tampa Bay to Orlando
Your RV will be due back at the rental location on the morning of the last day of your trip. Drop off your RV early and spend your last day doing some of the things that make Orlando so popular. Visit Universal Orlando, the Magic Kingdom, Epcot Center, or Disney's Hollywood Studio.
This 7-day self-guided tour is just an example of the many things you could do while you are visiting Florida. Customize this tour to make it your own and enjoy all that Florida has to offer.
Tags: RV tours