Rent an RV and enjoy the thrills and excitement of New Jersey, "The Garden State". Your New Jersey RV rental will pass by charismatic Victorian seaside villages, sandy beaches, world-class art collections, Revolutionary War sites, antique stores, and 127 miles of Atlantic coastline.
You could take your New Jersey RV rental into the six distinct tourism regions of New Jersey: Greater Atlantic City, the Shore, the Southern Shore, Delaware River, Skylands, and Gateway.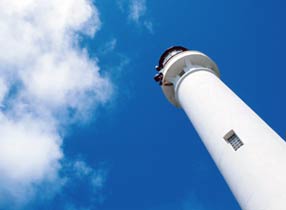 The Jersey shore has some of the most charming beach communities in the Northeast while Atlantic City provides casinos and performers 24 hours a day, 7 days a week.
For some family fun, take your New Jersey RV rental to Mountain Creek in Vernon. At Mountain Creek, you'll find a water park, hiking areas, winter skiing, and Kidz World. The Space Farms Museum and Zoo in Beemerville is a popular stop. You could then drive your New Jersey RV rental to Columbia and visit the Lakota Wolf Preserve where they'll have wolves, wolf pups, bobcats, and foxes in their natural habitats. Go to Northlandz and see the largest miniature railroad in the world. Your children will enjoy the Story Land Park at Fairy Tale Forest in Oak Ridge.
If you've been dying to take your New Jersey RV rental to the Statue of Liberty and Ellis Island, drive to the Liberty Science Center at Liberty State Park in Jersey City and the ferry service will take you there. The Liberty Science Center has the USA's largest IMAX® Dome Theater.
Atlantic City has 24-hour gaming excitement, headline entertainment, exceptional restaurants, and shops, and is known as "America's Favorite Playground". There's also the famed 4.5-mile boardwalk, Steel Pier.
If you decide to take your New Jersey RV rental to the Southern Shore, you'll find New Jersey's center of special events, live shows, concerts, art shows, ethnic festivals, and other attractions.
If you've never visited a lighthouse before, New Jersey is the perfect place. New Jersey has 21 lighthouses with 11 open to the public. The lighthouses are in some of the most stunning areas of New Jersey.
See our RV rentals in New Jersey.
Tags: new jersey rv rentals, newark rv rentals, NJ, rv rentals in newark