Known as "The Magic City" Miami is a vibrant mosaic of different cultures, pristine beaches, world-class dining, and a lively arts scene, all surrounded by subtropical wilderness! Get a taste of Miami with these must-see neighborhoods on your RV trip in Miami:
Little Havana
Created by Cuban exiles in the 1960's this neighborhood transports you to the Cuban capital! Order a Cuban coffee and stroll the streets to experience Latin American culture; smell fresh tobacco from the authentic cigar shops, explore Latin American art galleries, the Cuban Walk of Fame and enjoy the local bakeries and Cuban restaurants at every corner.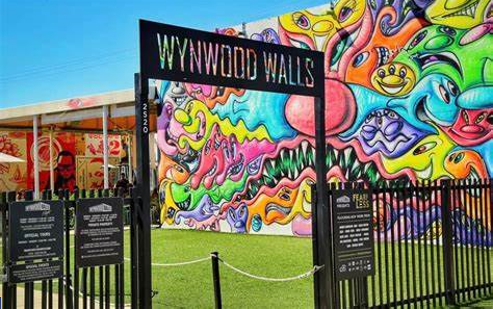 Wynwood
A must-see international destination, Wynwood Walls is an explosion of art! Colorful murals transform old warehouses into 80, 000 square feet of an urban art masterpiece. With major art events coming and going, the area is always growing and changing. Stroll through the bright colored art display, find funky souvenirs and check out the local shops scattered throughout the area.
Mid-Beach
Know for amazing sandy beaches, incredible restaurants and Miami style nightlife, a day in this neighborhood will fill you with lasting memories. Spend the day playing in the sun, do some world-class shopping and treat yourself to one of the many incredible restaurants for dinner. After dinner head to the Faena District, to experience the artistic soul of the region with the Summer Jazz series highlighting some of the best international Jazz musicians.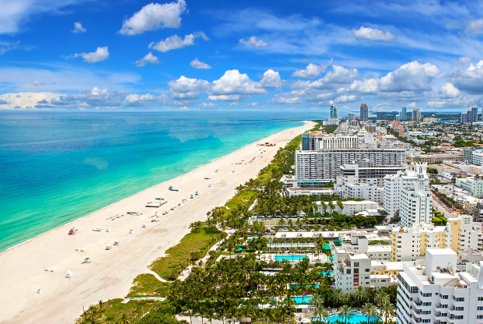 South Beach
Day or night this world-renowned beach has an eclectic mix of irresistible shopping, restaurants, and galleries all amidst iconic art deco buildings. The skyline, sandy white beaches and clear blue water of South Beach is on all the Miami postcards! Stroll the streets to take in the old Spanish style architecture, stop for a cold beverage and Miami ambiance at the classy Juvia restaurant with an amazing cocktail list and matching view of the city!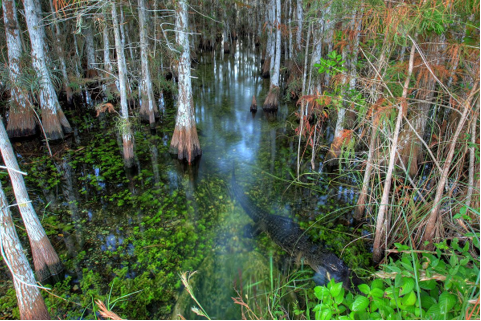 Everglades
Get the RV ready, and head to the edge of the city to the subtropical wilderness of the Miami's Everglades. The untouched oasis is home to alligators, tropical plants, over 200 bird species, turtles and other exotic wildlife. With the convenience of your RV take in the hiking, and bird watching as you enter the park. Get the full experience with a guided airboat tour, cruise through the scenic  Ten Thousand Islands Mangrove Forest, and with more alligators per acre than anywhere in the world, view the magnificent reptiles in their natural environment. It might be warm out, but swimming is not recommended! J
Book your RV now and start planning your trip to this "Magic" glimmering mosaic of entertainment, fine dining, subtropical wilderness and pristine white sandy beaches.
Follow us on facebook.com/usarvrentalscom or on Twitter @usarvrentalscom for promotions and exciting articles about life in an RV!